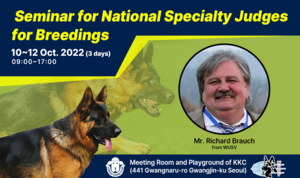 The seminar will take place from October 10th to October 12th, 2022 at the meeting-room and playground of KKC (see advertisement).

Interested parties may please fill in the forms attached and return the documents to the KKC – with copy to astridarendt@schaeferhunde.de and helgaseidel@schaeferhunde.de – until October, 05th, 2022 at the latest together with a police clearance certificate that may not be older than six months upon presentation.
For details please refer to the SV Judge Regulations. Please do not forget to obtain the confirmation and signature of your national club on the application form for participation at the seminar (at the very bottom of the form). The fee for the training course amounts to 300.00 €. Once you are registered, the WUSV will send you the corresponding invoice. Furthermore, a fee may be charged by the Korean Kennel Club KKC for expenses in terms of the organization and for hostessing. In case that you need further details please refer to the Korean Kennel Club.